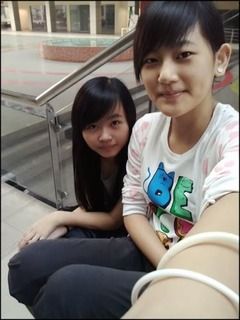 By the way, I think you all must know who am I right?
HAHA, if don't know search Sabrina Lee on Echin Chye siblings on her facebook
Not forever but just this time only
HAHA, we planned quite long time
I am gonna write about her
and she is gonna write about me on my blog "D
Let me tell you the story how we two get to know each other ")
Well, there are no beginning between me and Echin cause we don't know how we two get close and become
I'll bet Echin Chye don't know how we start too :P
After I knew Echin, I get to know her family background too
Echin is the most strong girl that I had seen in my life now
I like how she face everything in her life
She is totally different from other girls
Although she is not staying with her families
and this is why she can be independent girl
And and and both of us got alot things is same
1st ;
In the class,when teacher divided us in group
Echin and Sabrina are always same
and we both said that we are boring to see the same face again larhh :P
2nd ;
Leo !! We both same because we are LEO girl :D
My birthday are earlier than her which is
Haiyor ! Echin Chye ahh, why you don't want come out earlier ?
Haiyor ! Sasa Lee ahh, why you don't want come out lately ?
HAHAH, we both always said this too :)
3rd ;
I think some personalities same too ")
But I don't know to describe it here
4th ;
Lastly message for
Echin Chye
Since there are no beginning in our friendship
means there are no ending in our friendship too
The earth is full of billions peoples but Thank GOD one of them is YOU who become one of part best friend :')